The RAD 5 is the super powered radionics machine that you have been dreaming of. With 5 massive orgone generators and a huger generator ring made of real Karl Welz super orgonite this is the professional radionic device with the power to handle any manifestation task.
The RAD 5 device - the System of Generating Abstractly formulated Trends is an advanced device for realizing intentions.

It is an extremely powerful life energy generator for advanced users.
It consists of two parts:
- 5 orgone generators installed around the circumference and focused to the center using silver compounds.
- 5 radionics devices connected in one device.
This powerful model allows you to activate 5 independent goals and trends at the same time.
Part 1 – the generator of life energy.

It is a donut-shaped combination of five heavy duty Chi generators® are directed towards the center of the device. All five outlet connections are made of silver tubes.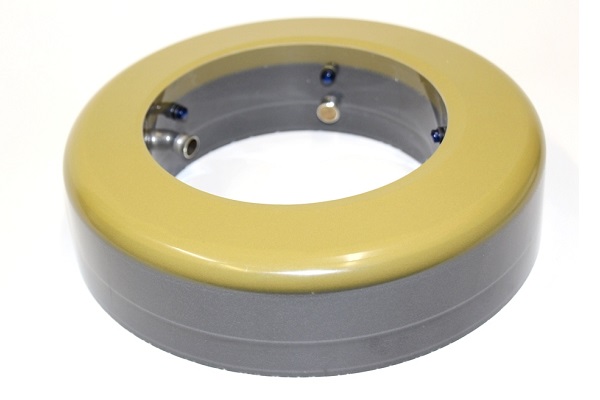 Part 2 – device settings.
It has five knobs (each with three verners for different ranges) for adjusting the frequency, one for each orgone generator.
On the side of the regulators is a "receiver" in the form of polished stainless steel plates, under the regulators there is a petal control panel.
On the receiver (transfer panel) you can put objects that serve as a structural link for trends, targets, etc. Use the petal control panel to set the frequency characteristics.
You can also set the intensity using any of our intention implementation programs.
Five Chi Generators® with corresponding scales are used for:
The Main Action
The Main Trend
The trend for External Conditions
The Main Object
An Alternative Object
Each generator is turned on separately. On the left there is a general switch, next to it is a switch for a water optimizer built into RAD 5 (RAD 5 and ATG 12 both have built-in water optimizers).

When working on yourself, using a gear drive, you can reconfigure five generators to five different areas of life experience. We advise you to do this only after you gain some experience in using the energy of your trends.
You can also tune the device to five completely different life situations or to five different people. Ideally, you can do this using a program of realization of intentions, opening at the same time five different copies plus one - for an even distribution of energies.
download user manual for radionic(.pdf)