KEY FEATURES
33 built-in three-dimensional pillows:Pull the entire spine
4 types of massage:Stretch, pound, squeeze and pull, relieving tension throughout the body
3 automatic massage programs:Carry out a wave study of the body
4 manual programs:Massage one of the departments (breast, cervical, leg, lumbar)
Set the strength of massage:Offers high, medium and low intensity levels of exposure
The analogue techniques of manual therapy:This method of therapy the problem areas of the body is considered the most effective
Control panel:Panel in Russian language, LCD display
Timer:It may be programmed for 15, 30, 45 minutes
EXCELLENT HEALTH FOR LONG YEARS
If you compare massage mattress with other therapeutic devices, it allows you to perform treatments in a horizontal position. To perform this procedure, you must be in a comfortable position and choose the desired program impact. After some time people will be able to get rid of the discomfort and experiences he encountered during a hard day.
Massage mattress US MEDICA Ocean PRO has a positive effect not only on the spine, but also on the entire body. It can improve the condition of musculoskeletal system, thanks to good massage.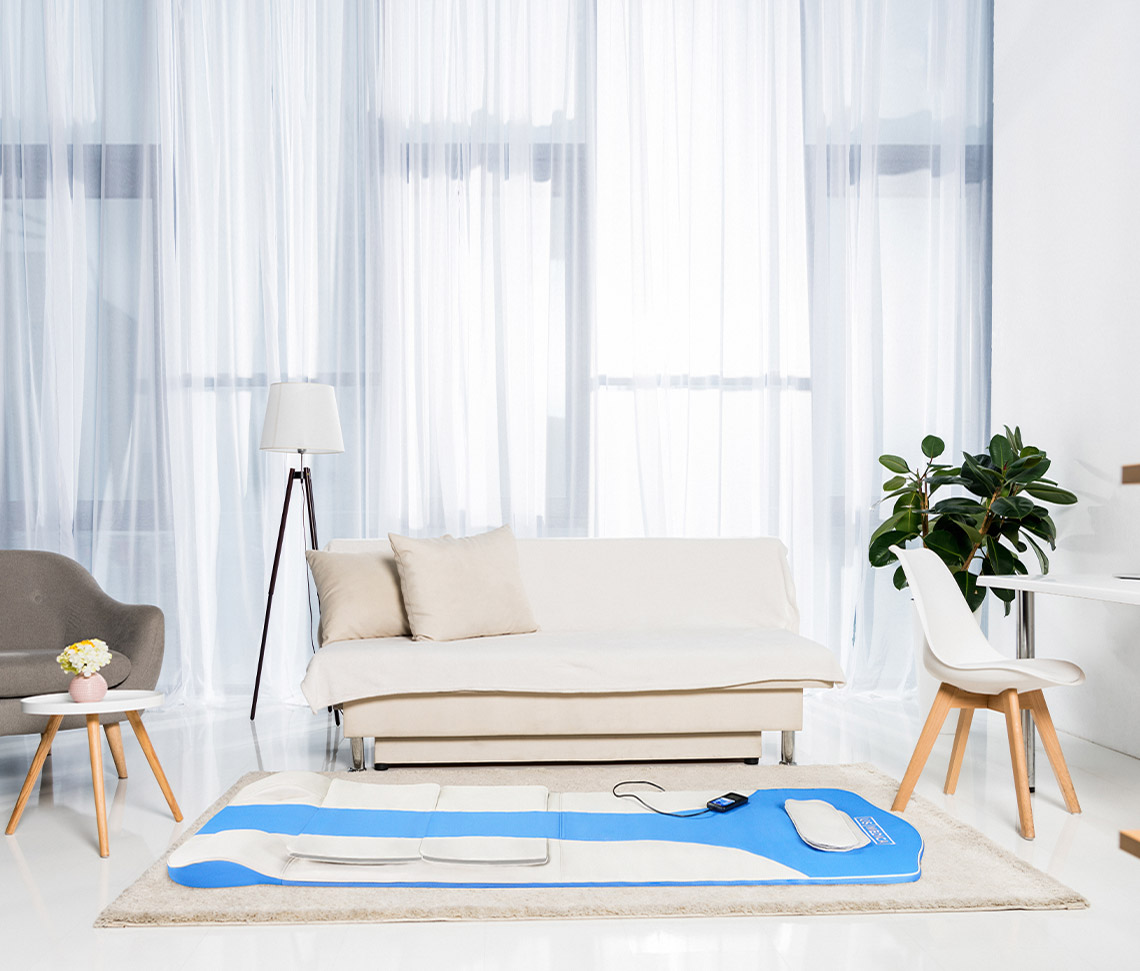 MANUAL MODES
Study of the cervical and cervico-thoracic spine transition

Cervical and cervico-thoracic transition. A study of these parts of the body provides improved mobility and stress relief. It also helps to relax the muscles of the cervical spine.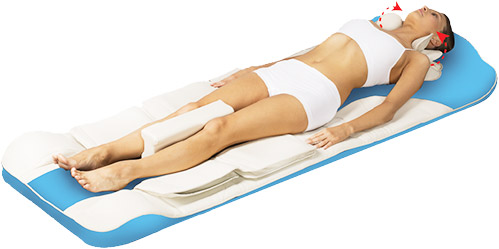 Thoracic spine

Study of the thoracic vertebra. Massage impact on this area is able to get rid of fatigue and improve the breath as a result of rotational motions on the axis of the spine. In addition, it allows you to restore the flexibility of the back.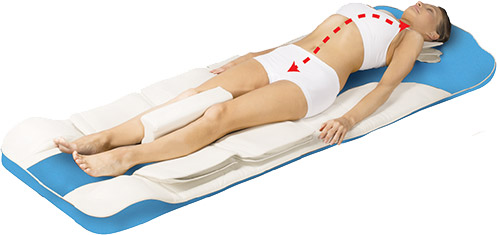 The lumbar and lumbosacral spine transition

Lumbar and lumbosacral transition vertebrae. Air compression cushion helps to get rid of discomfort, as the mattress has the ability to stretch the vertebrae in a horizontal position.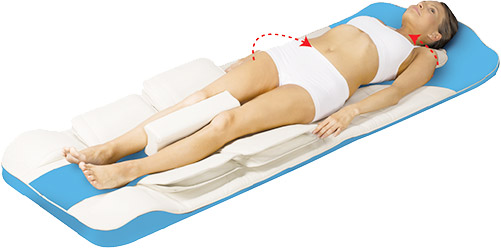 Compression of the leg muscles helps to improve lymphatic drainage

Improvement of lymphatic drainage is carried out by compression of muscles of the legs. This allows to effectively overcome the extra pounds, to make the tissue more elastic and eliminate swelling.

THE KEY TO SUCCESS - EXCELLENT STATE OF HEALTH!
One- 7 air-compression cushions designed for massaging the cervical spine.
Two- Airbag operate in pairs and improve the status of each section of the spine (thoracic, lumbar, shoulder).
Three- 6 air-compression pillows to massage the hip region
Four- 6 air-compression pillows to provide a positive impact on the area of the calf
Five- 8 air-compression pillows for pairwise massaging the shoulders and back
Six- 2 air-compression cushion for massage lumbar
Seven- 4 air-compression pillows to improve the condition of the buttocks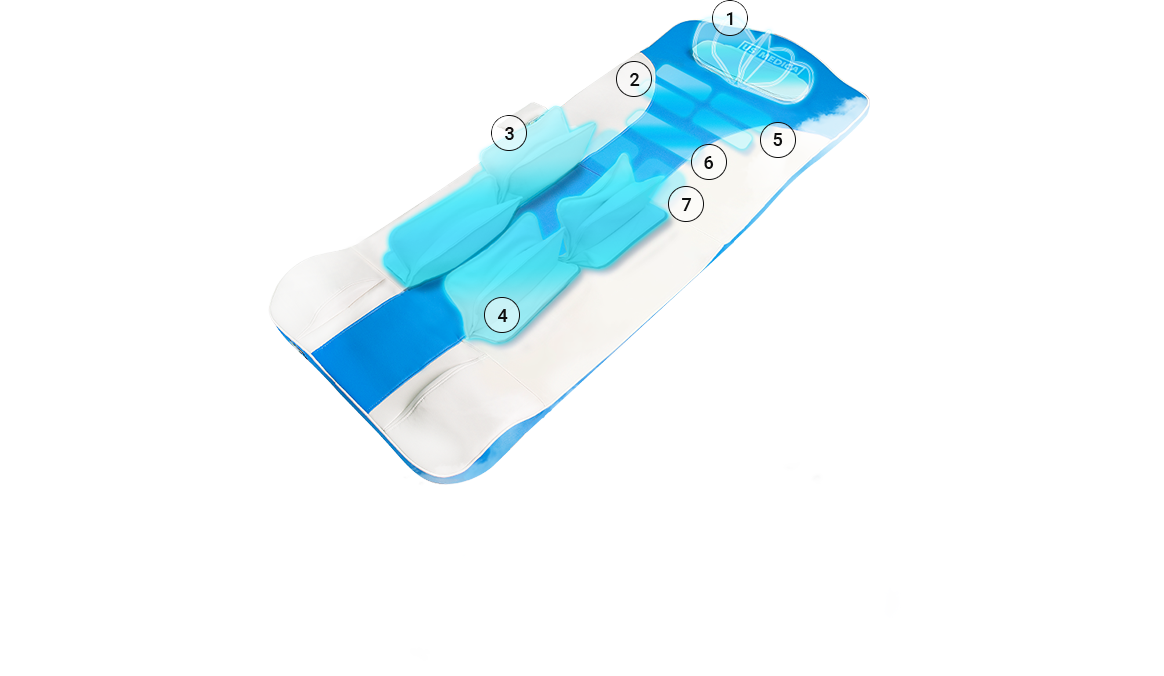 REMOTE CONTROL
A distinct advantage of the mattress that it is easy to use. To set the desired time and pick a program, use the Russian cockpit, equipped with a LCD display. It can be used to choose a complex massage of the spine or its individual region. The effect of the application of air chambers can be compared with the actions of professional massage therapists.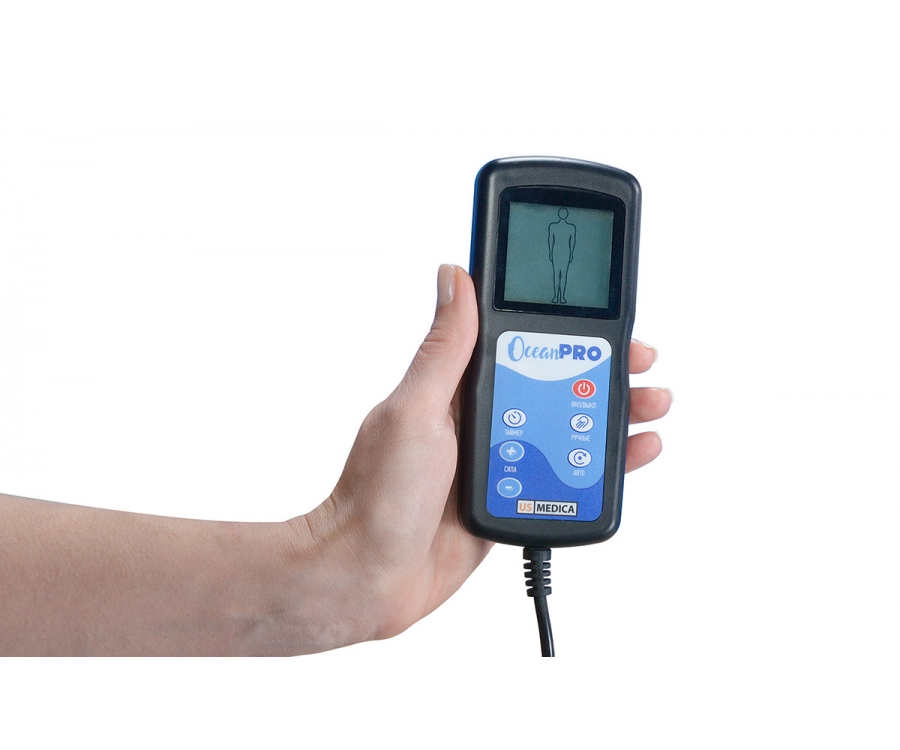 CONVENIENT AND EASY TO MANAGE
The mattress is very simple and easy to manage, so its principle of operation will be able to understand each. Moreover, it does not occupy in space a lot of space, because it is included in the package is compact but roomy bag. The weight of this item are also small, so that it can easily take on the road. Choosing a massage mattress, you can be assured that making the right decision, because it gives you the opportunity to save for years to your health and all the loved ones
SPECIFICATIONS
Product name:

Massage mattress

Model:

US Medica OCEAN PRO

Voltage:

220-240 V, 50-60 Hz

Power:

72 W

Dimensions:

200х70х3 cm

Net weight:

12.5 kg

Timer:

15/30/45 min

Maximum user weight:

125 kg