KEY FEATURES
The massaged area: feet, calves, hands and forearms
3 automatic massage programs
3 speed massage mechanism
2 the direction of movement of massage rollers
Convenient LED-display
Optional warm up stop
Suitable for use at home and in the office
The timer 15 minutes
KNEADING MASSAGE

Functional and comfortable foot massager US MEDICA Angel Feet WHITE effectively kneads the muscles of the foot. Structure consisting of side plates and rollers, provides stress relief in a few minutes.
Massage technique Shiatsu strengthens the immune system, improve blood supply and normalization of the internal organs.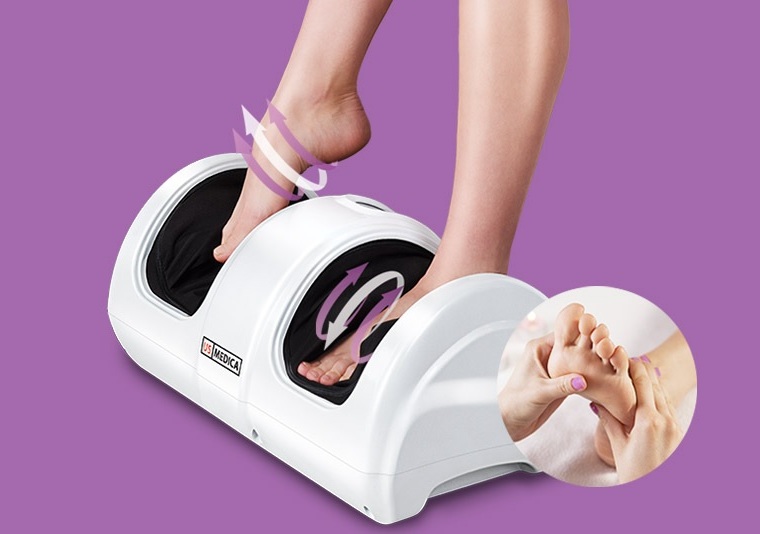 MASSAGE OF FEET, CALVES, HANDS
The design of the device is left to chance: take the situation lying down or sitting, run a comprehensive hand and arm massage or lower leg.
LED DISPLAY
The foot massager is equipped with a bright led display and easy to operation process of the control panel. With their help, you can choose one of three automatic programs, or independently to adjust the movement of the massage mechanism. After that you should adjust the speed of movement of the rollers, select a warm-up stop and start any massage with the push of a button.
SETTING UP CUSTOMISED
Using manual mode you will be able to perform intensive or, on the contrary, a delicate massage. To achieve a relaxing effect, select the low speed rollers. Gentle kneading of the muscles and the acupuncture effects help to get rid of stress. For recovery it is recommended to increase the speed of rotation of the rollers.
The increase in speed is ideal for fast recovery of physical and emotional forces of the body.
BEAUTIFUL DESIGN
Tumbler in white with a pearl shimmer. This color scheme has a positive effect on psycho-emotional state of a person. The device has a beautiful design, so fits perfectly into any interior design and its useful features will improve the health of everyone.
FOR ANY SIZE FOOT
A properly thought-out geometry of the device allows it to be used for any size foot. Gradual and slow the movement of the foot ensures full kneading the area of your choice (heels, toes, arch of the foot). Additional pressure on the leg at the sides enhances the effect, causing you to get rid of the swelling and will lead to tone the tired muscles.
SPECIFICATIONS
| | |
| --- | --- |
| Model: | Angel Feet White |
| Color: | white mother of pearl |
| Number of ed. programs: | Three |
| Types of massage: | roller, kneading |
| Voltage: | 220 V; 50-60 Hz |
| Power: | 45 W |
| Type of food: | 220 V |
| Dimensions: | 50*32*22 cm |
| Net weight: | 5 kg |
| Gross weight: | 6 kg |
| Timer: | 15 minutes |